• and all things nice • art • art prahran • balloons • framed prints • fugazza • launch • MAD • mad fair • pop up market • prahran • puppy • red carpet • submission

I'm a bit late with this blog post, but nevertheless – the Art Prahran competition was launched Saturday November 6th at 118 High Street, Prahran as part of the MAD (Melbourne Art & Design Fair) Pop-Up Market. Here are some pictures from the day including: my submission And All Things Nice, bright balloons, me being a daggy poser and a cute little puppy I met! The competition continues so you still have time to vote for your favourite piece! Just send an email to michelle@savi.net.au!
---
• and all things nice • art prahran • crema group • letitia buchan • MAD • melbourne art and design • november 5th • pop up market • rothe lowman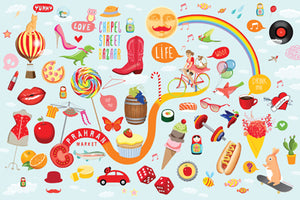 Check out the Pop Up Markets this Saturday the 5th November! It's at 118 High street, Prahran as part of MAD, Melbourne Art and Design Fair! Some of my new work will be on show along with others', including Letitia Buchan's. Her work is absolutely gorgeous, as is she. 'And All Things Nice' is my submission for the Art Prahran competition. Rothe Lowman and Crema Group requested submissions from 5 artists for their brand spanking new Prahran apartments! The winner will have their design printed onto canvas and will take up the eastern facade of the building. The winner will be announced on March...