• jacky winter • snapchat • snapchat filters • the jacky winter group • tk maxx
Thanks to my brilliant agents over at The Jacky Winter Group I got to design a range of Snapchat filters for the launch of TK Maxx stores across Australia! I had a play with some of the filters myself (see below). But you can have a look at the full range here!
---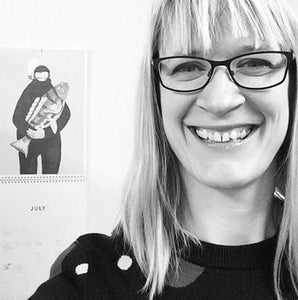 Big sister left glasses here. Don't mind them! Can I keep them?
---
• aussie • aussie birds • australiana • crimson rosella • currawong • eastern rosella • emerald library • exhibition • gouldian finch • hahnemuhle • image science • lorikeet • rosella • wattle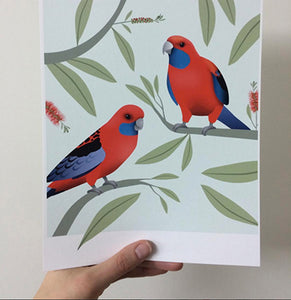 Just got some prints done by the champions at @imagescience for my little show at Emerald Library this month. Here are my Aussie fauna and flora prints. Printed on Hahnemühle Photo Rag. I'll be hanging the prints on Tuesday the 18th so pop in after that. They'll be up for a couple of months!
---
• acrylics • flora • paint the furniture • plants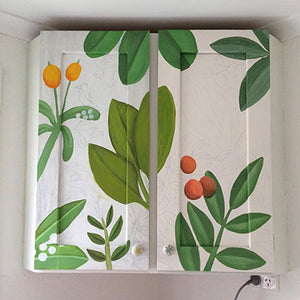 Hello everyone! I've been a bit absent lately (that is, a YEAR), putting up heaps of posts on my facebook and instagram accounts and neglecting my dear BLOG! So I thought I'd get into gear / pull my finger out / get back on track with some pics! I've got a few fun home / office projects happening at the mo, and here's one of them: When I don't have any work deadlines and when the small ones are asleep, I paint the furniture! Haha! Only half done though, as you can see. Need to add some hidden birds and insects and...
---
• altered art • altered painting • cat macinnes • cat macinnes illustration • catmacinnes • monster • opshop art • painting • redirected art • redirected painting • surreal • thrift painting • upcycled art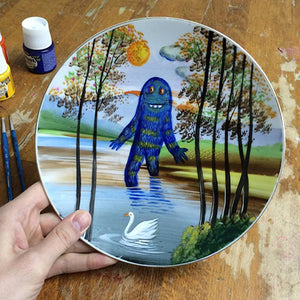 I saw these guys The Gnarled Branch and Thyrza (check them out – now!) doing it and wanted to have a go! I present my monster (and other bits) I added to this tranquil-lake-scene-porcelain-plate-wall-hanging.